It's kitten season here at the farm. As I type this, I'm sitting at the bottom of the stairs near the dining room, keeping an eye on a shoebox full of black and white furballs. We had to pry them from their safe spot under our deck so the exterminator could treat around our house for termites (ugh). In a couple hours, we'll return them to their mom, who will likely find a different spot for them. (Note: I wrote this earlier today.)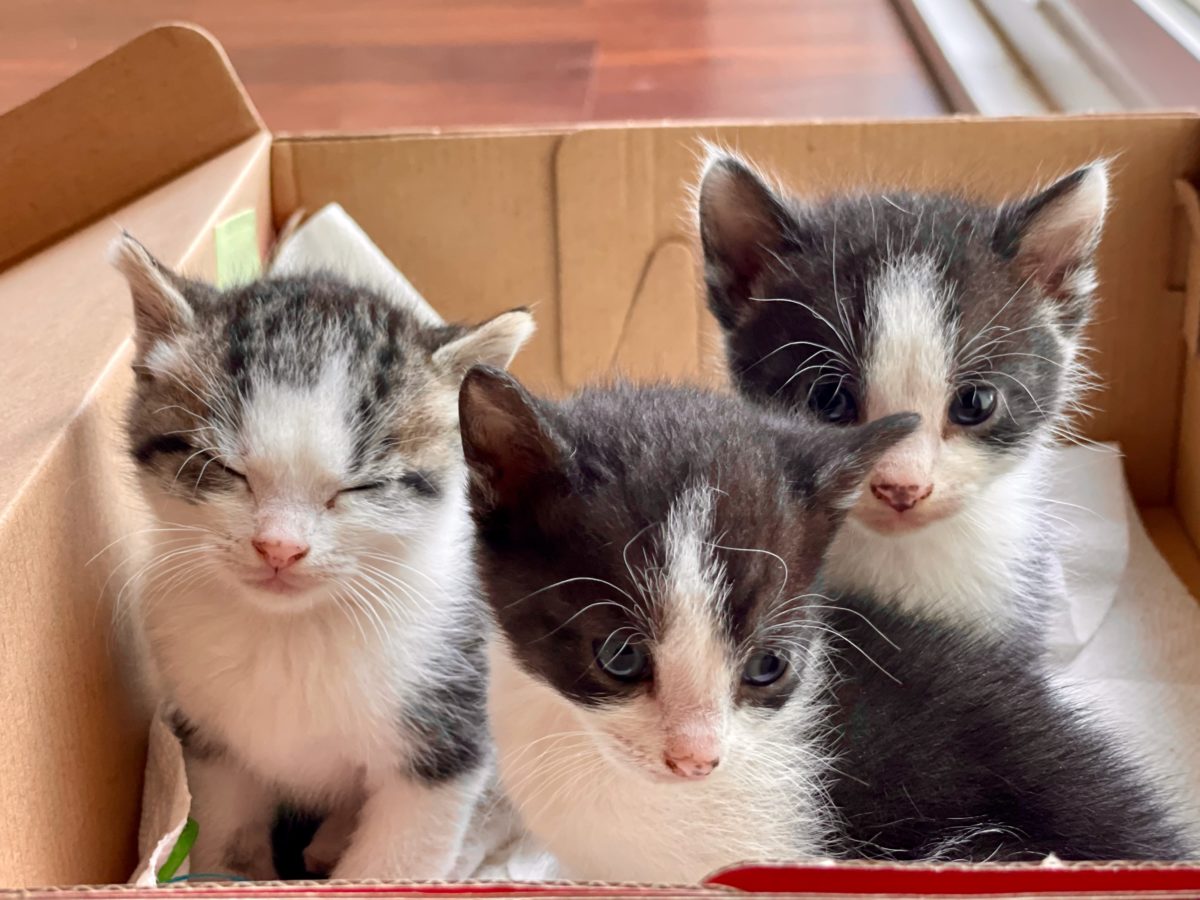 The past few months have really flown by. In March, we decided to build a greenhouse against one side of our garage. My husband has a degree in building construction; he poured the concrete for the foundation on March 4 and we had plants in the greenhouse on March 29, which still amazes me tbh. It still needs a few finishing touches, but in the meantime we're having fun learning how to grow a variety of veggies, fruits, and flowers. We're hoping we'll be able to keep it warm enough in the winter to continue our gardening hobby year-round.
Last month, my son finished kindergarten. ? I still can't quite process how fast his first year of school went. Thankfully he loved it and can't wait to go back!
All that's to say: WWDC kinda crept up on me this year. It had always been my plan to shift gears at the beginning of June, pausing work on my SpriteKit game to prepare an update for YarnBuddy and take in all of the new goodies Apple will announce in just two days' time. Some weird animation bugs have cropped up in YarnBuddy over the past few iOS point releases (thanks SwiftUI!), so I need to deal with those, as well as add the ability to export projects as nicely-formatted PDF files. Eventually, I need to start working on the foundation of a crowd-sourced yarn database.
There have been so many cool rumors swirling around the conference this year—those, combined with the in-person element and lack of developer-relations kerfuffles have contributed to what seems like an unprecedented amount of hype. Here are a few things I'm hoping to see, in no particular order:
A redesigned MacBook Air with an M2 chip. I'm hoping for a green or orange one, but Mark Gurman thinks the only new color might be blue, which would also be rad. I'm still hoping they'll go with white bezels just for that pure iBook nostalgia.
More ways to customize the Home Screen or Lock Screen on iOS and iPadOS. I love the idea of an old school Mac-like Dashboard with live, interactive widgets. It's also way past time to be able to insert blank spaces into our app icon layouts.
A first-party professional iPad app. There have been interesting rumors about yet another revamp of iPad multitasking, possibly involving (gasp) floating windows. What better way to demo this new "pro" mode than with a new pro app? Something that involves multiple windows and/or moveable floating tool panels, etc.
The announcement of Apple's new standalone classical music app. I enjoy listening to classical (especially choral music) and I'm looking forward to having an app specifically optimized for that purpose.
SwiftUI improvements. I still don't regret the decision to write YarnBuddy entirely in SwiftUI; however, it would be nice to be able to start phasing out some of the weird hacks and workarounds I've had to come up with to make the app look and work the way it does. For example, there's still no true collection view equivalent. Navigation could use a re-think, or at the very least, some official guidance. Core Data integration is okay-ish, but it's needlessly difficult to make it possible for users to sort and filter a fetch request. Any and all improvements are welcome, so I'm excited to see what the team has been working on this year (though I, like others, think SwiftUI needs to be decoupled from the annual OS upgrade cycle).
New and/or third-party watch faces. When I think of all the amazing designers I follow on Twitter, it makes me sad to imagine the gorgeous, fun watch faces they could come up with that will probably never see the light of day. I'm hoping this is the year Apple gives up its tight control over watch face design and gives designers a simple API for building and sharing (selling?) watch faces. Even if there are a limited number of third parties (Nintendo??), I'd call it a win.
Augmented reality stuff! As someone who gets really bad motion sickness, I've never been interested in virtual reality. Augmented reality, however, interests me. I can see its potential for good in areas like navigation, accessibility, and collecting Pokémon. I get a kind of uneasy feeling, though, when I consider the possible negative social consequences of wearing a computer on your face. Maybe I'll have to write more about that someday.
Flat design is just…well, over. It's been on the way out for awhile, but it's time for us to save the good bits and jettison the rest of it straight into the sun. In other words: here's hoping Apple puts the final nail in the coffin on that weird chapter of mobile app design. I just want my apps to have personality again, you know? Not in a garish way, but a beautiful, fun way.
What are you hoping for this year? Although I won't be there in person, I'm looking forward to watching the keynote at home and watching sessions whenever I can find a free moment. I really enjoyed the Digital Lounges last year, so I signed up for more this time around. I'm also hoping I can try at least one of the challenges.
I hope you all have an awesome week, whatever you're doing! And don't get stressed about all the new stuff…remember: the summer is long, the videos can be rewatched, you probably have to support older OSes anyway, and Apple won't have half of their own bugs worked out until maybe next spring. So relax! Happy WWDC!