After all, I can't be a real Apple blogger until I write about my favorite headphones, right? ;) Well, here they are: the Audio-Technica ATH-M50x ($160) studio monitor headphones, in limited-edition blue. As of the time of this writing they are still available in blue, although according to Audio-Technica's website, that color has been discontinued. They also come in white, black, and dark green.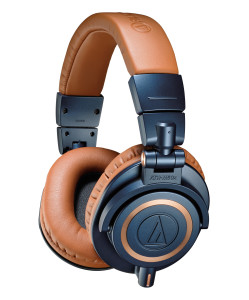 Marco Arment added the ATH-M50x's to his headphone mega-review in August and they ended being his #2 pick. I don't blame him! While they might not be as fashionable as Beats, these phones sound seriously great.
I'm currently listening to Adele's 25 and smiling because not only is it an amazing album, but also because I know I'm not missing out on anything. The warm, raw timbre of the cello throughout "Love in the Dark," the soft guitar arpeggios in "Million Years Ago," and let's not forget Adele's ridiculous range—all of it comes through with a crispness and a richness that most Beats headphones could only dream of (though to be fair, I've only tried Beats at in-store demo displays).
To my ears, the ATH-50x's offer the perfect balance of treble and bass. Two of my favorite tracks on 25 so far have been the ballads "Remedy" and "All I Ask," which feature lots of deep brooding piano notes in the lower octaves that are not at all lost or muddied through the ATH-50x's. And when the strings kick it into high gear at the end of "Love in the Dark," let me tell ya, those violins are screamin' (and I mean that in the best way possible).
As far as accessories go, the headphones are collapsible and come with a carrying case. They also come with three detachable cable options: a 9.8″ straight cable, a coiled cable that stretches to 9.8″, and a smaller 3.9″ straight cable. At only $156 for the black ones, they'd make an excellent Christmas gift this year.
Oh, and if you're looking for an iOS app that allows you to customize EQ settings, I recommend TuneShell. It also serves as a pretty decent Music app replacement if you're looking for that as well.